transgene
R-iPS Cell FAQ 2:
What is the expected yield from the in vitro trancription (IVT) reactions?
Performed as described, you should recover around 40 ug RNA from each 40 uL IVT reaction.
R-iPS Cell FAQ 3:
How can the success of the RNA synthesis protocol be assessed?
Run 500 ng (5 uL) of the concentration-adjusted products on an E-gel to check for consistent product yield and relative product sizes, and to confirm the absence of secondary bands or smears.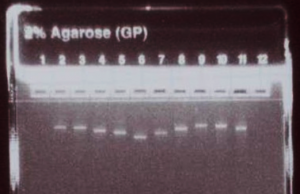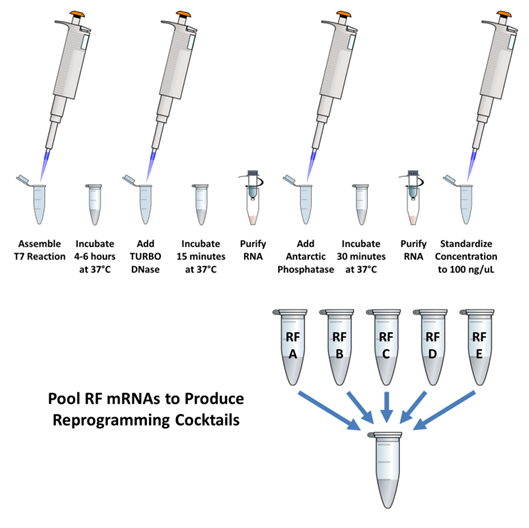 By Jiwu Wang
According to the Skin Cancer Foundation, skin cancer is the most common type of cancer in the US. Although the skin might seem to be an easy target for gene therapy or RNAi mediated functional corrections, the outer keratinized epithelial cells forms a formidable barrier to delivery of genetic material. The epidermis undergoes rapid turnover, a fact that further complicates gene therapy because gene transfer to skin stem cells would be required for sustained effects.
Before skin gene therapy can be discussed with any practical meaning, a physiologically relevant in vivo model for studying gene function in the context of tumorigenesis and epithelial biology must be established. Studies of gene functions in skin homeostasis in mouse models were mostly performed by labor-intensive knockout methods. Recently, at least two publications have shown that by using ultrasound-guided injection of lentiviruses into amniotic fluids, transgene or shRNA can be efficiently and specifically delivered to epidermis, including skin stem cells, creating a very attractive model for functional studies and therapeutic tests.
Localized injection of high titer lentiviral vectors has been widely used for studying genes in brain development and a few other areas. Instead of injection into animal tissues, Endo et al. injected tiny volume (nl) of high titer lentivirus (10e10 TU/ml) into amniotic cavities within a defined window of embryogenesis [1]. By following fluorescent protein markers (CFP, GFP, YFP, RFP), both Endo et al. and researchers from Elaine Fuchs group demonstrated high efficiency and specificity of delivery to epithelial cells, commonly resulting in multiple genomic insertions of the viral genome.
RNAi against alfa1-catenin was used by Beronja and colleagues as an example to show that loss-of-function analysis can be done rather easily using shRNA/FP bearing lentivirus [2]. nlCre was also delivered to embryos with loxP-flanked transgenes vs wildtype for conditional knockout studies. These new findings should open doors to various experiments and therapies concerning the health of the skin.
1. Endo, M., P.W. Zoltick, W.H. Peranteau, A. Radu, N. Muvarak, M. Ito, Z. Yang, G. Cotsarelis, and A.W. Flake, Efficient in vivo targeting of epidermal stem cells by early gestational intraamniotic injection of lentiviral vector driven by the keratin 5 promoter. Mol Ther, 2008. 16(1): p. 131-7.
2. Beronja, S., G. Livshits, S. Williams, and E. Fuchs, Rapid functional dissection of genetic networks via tissue-specific transduction and RNAi in mouse embryos. Nat Med. 16(7): p. 821-7.
080210-080810: mTFP1-Mitochondria-neoR plasmid, a new drug-resistant version of Allele's organelle markers
080210-080810: Retroviruses expressing OSKM or OSNL set of iPS factors at $500 for order placed this week only for all Allele Facebook fans, others with code iPS0808 mentioned in order.